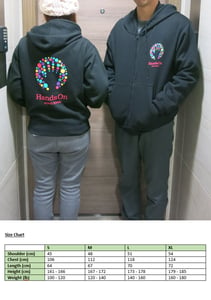 $

250.00
HandsOn Hong Kong addresses the urgent needs of elderly, people with disabilities, children and youth, environment, underprivileged women, refugees and migrants as well as animals.
In the new year, our team performed our creation designing a HandsOn Hong Kong hoodie. Getting a HOHK hoodie with HKD250 is also a way of supporting our organization, which devotes to serve our local community. Money collected will be used to maintain our daily operation of bridging volunteer manpower and pressing social needs.
We look forward to seeing all members in this big family wearing the same battle uniform against the existing and coming issues in HK.
Material: 100% Cotton
Color: Black
Size: S, M, L, XL